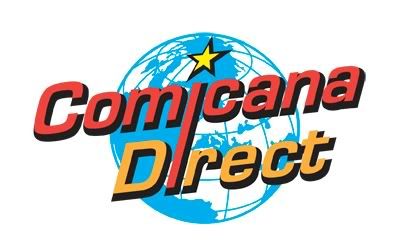 WHO ARE COMICANA DIRECT?
Focusing mainly on American back issue comics and a new release subscription service, Comicana Direct is the UK's premier online comic retailer, matching depth of stock with the strictest grading and highest standards of customer service. With a combined experience of over 50 years in the industry, the Comicana Direct staff are determined to ensure that all our customers go away satisfied.
Our inventory covers all major publishers from the start of the Silver Age to date and we also carry a small selection of Golden Age books. Whether you're looking for 'beat but complete' reading copies, professionally graded high-grade books, or anything in-between, Comicana Direct currently have over 60,000 items in stock to chose from, with new stock being added every week. Go to our web-site to check out our huge inventory and high resolution scans.
GRADING
Comicana Direct determines grade by strict adherence to Overstreet grading standards, although we also incorporate certain aspects of the standards laid down by CGC, the industry's premier third-party grading company, when those standards are stricter than Overstreet's interpretation.
Our aim is to allocate a grade that would be the minimum grade received should the book be submitted to CGC for independent assessment. Although we cannot guarantee this will happen, our experience on submissions made to CGC are that less than 10% of books come back graded lower than our assessment, more than 60% are returned at exactly the same grade, and over 30% come back at a higher grade than the one we assigned.
You will find grade comments on certain books; tape along spine, interior covers browning, etc. Please note that these flaws have already been taken into account when determining the stated grade, and are included for informational purposes, to highlight specific defects/characteristics that certain collectors might have personal issues with.
PACKING AND COMBINED SHIPPING
All items are bagged and boarded and will be dispatched safely and securely in packaging custom-designed for the transit of comics worldwide. For the purposes of shipping, auction wins can be combined. Within the UK, each additional item will cost 35p for 1st Class and to North America, extra items will be $2 each via Standard Air Mail. For all other locations – or postal services - please e-mail us at for a quote.
ITEM DESCRIPTION
Title: New Mutants
Issue: #98
Grade: VF/NM
Grade Comments: None
Issue Comments: 1st appearance of Deadpool & Domino; Rob Liefeld art